Top posting users this month

This tutorial shows you how to make a family war, whether you are the head of the family or a member. The head of the family simply has two more steps compared to the other members.
General informations
Once the war is launched by the head of the family and the opponent has been found (may take several hours or several days), there is a 24-hour delay, allowing each member to prepare and realize the Different stages of preparation for the war.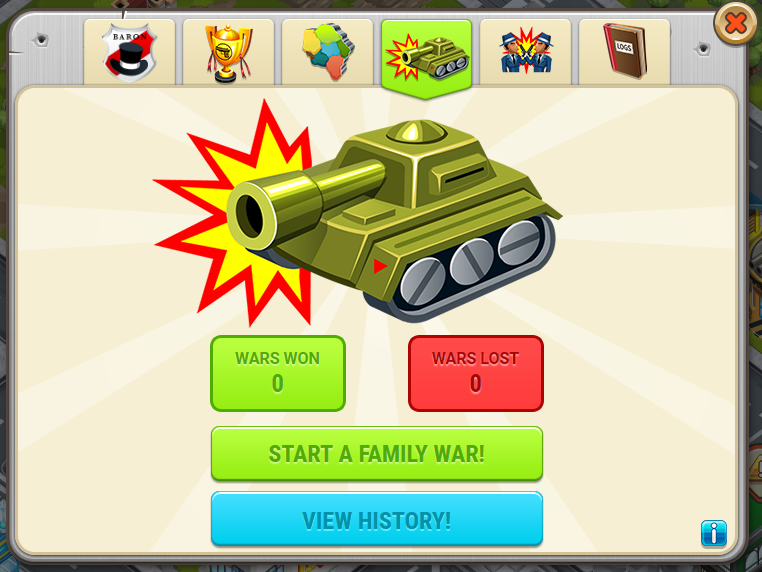 1/
Launch of a war
(chef)
The war is launched by the head of the family. The search for an opponent begins. The system seeks first a family of the same level but failing that, it can take a family at random. Each member of the family then receives a notification to indicate that the leader has launched a war.
2/
War strategy
(chef)
Once the opponent is found, a notification is sent to the family members. The head of the family must then allocate future ammunition and equipment given by the members and choose a general strategy (offensive, defensive etc.).
3/
Giving ammunition
(Member)
Each member can give ammunition to the family. The more ammunition, the greater the chances of winning. After giving ammunition, it is necessary to wait 1 hour for the next stage.
4/
Giving equipment
(Member)
After giving ammunition, you have to give equipment. Family bombs have been specially designed for wars, the higher the level of bombs and the more the family has a chance to win, but other equipment can be donated. 5 equipment can be given as much as possible. You must click on "Select a device" to choose a device. If you do not have a family bomb, you should buy them in the store of equipment.
5/
Beginning of the war
At the end of the 24-hour period, the war begins. The war takes place in 3 rounds which last 2 hours each. Every member of the family can boost the war by buying a boost (no limit). Many parameters are taken into account to determine the winners: the strategy, the% of the ammunition and equipment shared on the 3 rounds, the number of ammunition and equipment in total, the number of participating members ...
6/
Earnings
The war-winning family receives millions of cash, which goes to all members, the losers also receive a cash reward, but less important.
Good luck !
Admin




Messages

: 37


Diamonds

: 0


Réputation

: 0


Join date

: 2017-02-26




---
Permissions in this forum:
You
cannot
reply to topics in this forum